Parenthood is such a challenging and beautiful journey.
Choosing a name for one's little princess is part of this journey.
This is a big decision because she will probably be walking around with her name for the rest of her life.
Laura Wattenberg, author of Baby Name Wizard, states that, ´´a child's name reflects
more on parents than the child.´´ However, as the child grows up, the name reflects on
her.
And the truth is that people sometimes draw conclusion from a someone's name. Before people get to interact with a person, the person's name would have sent some signals.
It is therefore imperative for parents to choose wisely, since the child may have to bear that name throughout her life.
Bible names or Christian names, may also be referred to as baptismal names. It is mostly often assigned by parents at birth.
Nowadays, pastors or officiating ministers at christening/naming ceremonies ask for the meaning of the names parents have penned down to name their child/children. it's not surprising that some parents don't even know the meaning of some names they give to their children. Some parents just want to go with the trend.
To prevent confusion of any kind, here is a list of unique Bible names for girls and meanings:
Bible Names for Girls and Meanings
Bible Names for Girls Starting With A
Abigail – the father's joy. (1 Samuel 25:3)
Abihail -the father is strength. (1 Chronicles 2:29)
Abishai – the present of my father. (1 Samuel 26:6)
Adah – an assembly (Genesis 4:19)
Adriel – flock of God. (1 Samuel 18:19)
Angela – angelic. (Genesis 16:7)
Anna – gracious; one who gives. (Luke 2:36)
Ariel – altar; light or lion of God. (Ezra 8:16)
Bible Names for Girls Starting With B
Bernice – one who brings victory. (Acts 25:13)
Bethany – house of song. (Matt. 21:17)
Bathsheba – the seventh daughter; the daughter of satiety. (2 Samuel 11:3)
Bekah- half a shekel. (Exodus 38:26)
Bethel – the house of God. (Genesis 12:8)
Beulah – married. (Isaiah 62:4)
Bible Names for Girls Starting With C
Camon – his resurrection (Judges 10:5)
Candace – who possesses contrition (Acts 8:27)
Carmel – circumcised lamb; harvest. (Joshua 12:22)
Charity – dear. (1 Cor. 13:1-13)
Chloe – green herb. (1 Cor. 1:11)
Bible Names for Girls Starting With D
Damaris – little woman. (Acts 17:34)
Dinah – judgement. (Gen. 30:21)
Diana- luminous or perfect. (Acts 19:27)
Daniela – judgment of God. (1 Chronicles 3:1)
Deborah – word; thing; a bee. (Judges 4:4)
Delilah- poor; small; head of hair. (Judges 16:4)
Dorcas – female roe-deer. (Acts 9:36)
Drusilla – watered by the dew. (Acts 24:24)
Bible Names for Girls Starting With E
Esther – secret or hidden. (Esther 2:7)
Eve/Eva – living. (Gen. 3:20)
Eden – delight. (Gen 3:20)
Edna – pleasure or delight. (Gen. 2:8)
Bible Names for Girls Starting With F
Faith – loyalty, belief. (1 Cor. 13:13)
Fortunatus – fortunate; lucky. (1 Cor 16:17)
Bible Names for Girls Starting With G
Gabriela – God is my strength. (Daniel 9:21)
Grace – blessing. (Prov. 3:34)
Bible Names for Girls Starting With H
Hagar- a stranger; one that fears. (Genesis 16:1)
Hannah – merciful or gracious (1 Sam. 1:2)
Hadassah – myrtle; joy. (Esther 2:7)
Honey – nectar. (Psalm 19:10)
Huldah – the world. (2 Kings 22:14)
Hope – expectations or belief. (Psalm 25:21)
Bible Names for Girls Starting With I
Iscah – to behold. (Genesis 11;29)
Bible Names for Girls Starting With J
Jael – one who ascends. (Judges 4:17)
Jewel – delight. (Proverbs 20:15)
Jemimah – as beautiful as the day. (Job 42:14)
Joy – happiness. (Heb. 1:9)
Joanna – grace or gift of the Lord. (Luke 8:3)
Jochebed – glorious; honorable. (Exodus 6:20)
Julia – soft and tender hair. (Romans 16:15)
Judith – the praise of the Lord. (Genesis 26:34)
Jordan – the river of judgment. (Genesis 13:10)
Julia – downy; soft and tender hair. (Romans 16:15)
Bible Names for Girls Starting With K
Keturah – fragrance. (Gen. 25:1)
Bible Names for Girls Starting With L
Leah – tired. (Gen. 29:16)
Lois – better. (2 Tim. 1:5)
Lillian/ Lily – elegant flower, a symbol of purity, innocence and beauty (Songs 2:1)
Lydia – standing pool. (Acts 16:14)
Bible Names for Girls Starting With M
Marah – bitter; bitterness. (Exodus 15:23)
Martha – who becomes bitter; provoking. (Luke 10:38)
Mary – rebellion; sea of bitterness. (Matthew 1:16)
Mercy – compassion. (Gen. 43:14)
Myra – I flow. (Acts 27:5)
Michal – resembling God. (1 Sam. 18:20)
Miriam- rebellion. (Exodus 15:20)
Magdalene – a person from Magdala. (Matthew. 27:56)
Mishael – who is asked for or lent. (Exodus 6:22)
Bible Names for Girls Starting With N
Naomi – beautiful; agreeable (Ruth 1:2)
Neriah – light; lamp of the Lord. (Jeremiah 32:12)
Olive – beauty or dignity. (Gen. 8:11)
Ophrah – fawn. (Judges 6:11)
Bible Names for Girls Starting With P
Paula – small or little. (Acts 13:9)
Bible Names for Girls Starting With R
Rachel – sheep (Gen. 29:6)
Rebecca – tied up; soil; beautifully ensnaring (Gen. 24:14)
Ruth- content. (Ruth 1:4)
Rose- a rose (Song of Solomon 2:1)
Ruby – the red gemstone. (Exodus 28:17)
Bible Names for Girls Starting With S
Sapphira – that tells or relates. (Acts 5:1)
Sarai – my princess. (Gen. 17:15)
Selah – a pause. (Psalm 3:2)
Serah – the morning star (Gen. 46:17)
Shiloh – His gift. (Joshua 18:8)
Bible Names for Girls Starting With T
Tabitha – a gazelle. (Acts 9:36)
Talitha – a young woman. (Mark 5:41)
Terah – to blow or scent. (Num. 33:27)
Tirzah – benevolent or pleasing. (Numbers 26:33)
Bible Names for Girls Starting With V
Victoria – victory. (Deut. 20:4)
Bible Names for Girls Starting With Z
Zemira – a song. (1 Chron. 7:8)
Zina – shining. (1 Chron. 23:10)
Zilpah – distillation from the mouth. (Genesis 29:24 )
Zipporah – beauty; trumpet; mourning. (Exodus 2:21)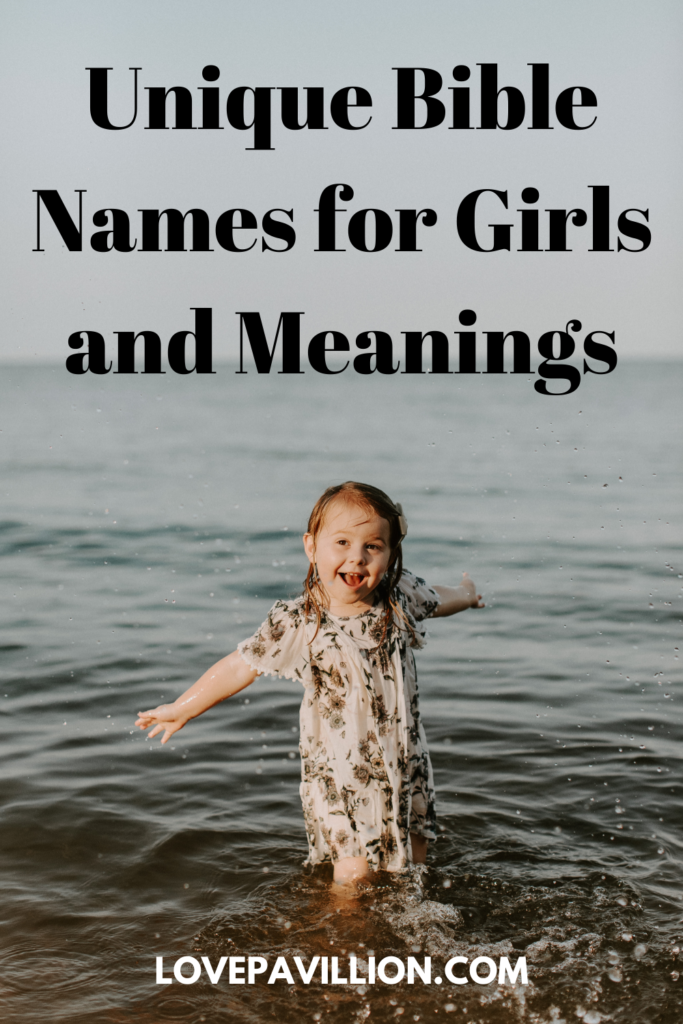 Writer: Olajumoke Onifade